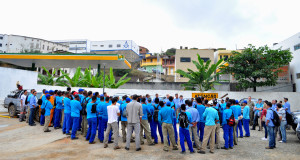 As the warmer weather starts to arrive many businesses are looking towards producing information sessions and posters relating to heat stress for the summer season.
Rather than the usual "Death by PowerPoint" sometimes it is better to target the toolbox sessions and pre-start meetings. This allows for a captive audience and ensures that the message is short and to the point without dragging on. These can be followed up with a poster or leaflet out in the workplace based on the same key topics. Avoid too much detail and technical information. Ideally you want something easy to remember so aim for the big ones, keeping up fluids, looking out for one another, awareness of symptoms and simple controls.
If you are not sure how to approach this I have included a few examples in the PDF attached to give you some ideas on which to build.
Managing the heat one pagers mc
BOTTOM LINE
Stick to the important messages and keep them simple