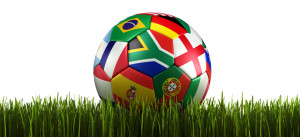 With the world cup well underway and the controversy of the selection of Qatar as host for 2022, it is topical to look at the impact of heat stress on the event. A few quick calculations using the Basic Thermal Risk App (BTRA) for three games already played give some indication of the impact.
| | | | |
| --- | --- | --- | --- |
| Match | Location (Brazil) | Air Temp & Relative Humidity (average) | BTRA Heat Stress Risk Advice |
| Australia vs Chile | Ciuaba | 24⁰C @ 73% RH | Low to Moderate |
| England vs Italy | Manaus | 27⁰C @ 74% RH | Increased risk for heat illness |
| Japan vs Ivory Coast | Recife | 24⁰C @ 93% RH | Low to Moderate |
| | | | |
At these levels it looks quite manageable. However what happens if we select Doha in Qatar as a location at the same time of the year and playing time?
Based on average meteorological data from the Metcheck.com website and using the same criteria as for the table above in the BTRA, we would be looking at approximately:
| | | | |
| --- | --- | --- | --- |
| Main Game of the day | Doha (Qatar) | 42⁰C @ 35% RH | The onset of heat induced illness is very likely and corrective action needs to be taken ASAP |
Probably not unexpected and remember this is only a simple estimation tool. If we then model this using the ISO 7933 Predicted Heat Strain approach we can see from below that most players core temperatures (that is the internal body temperature) would be reaching 38⁰C at around approximately the 29 minute mark (see below). This does indicate that the initial estimate of the BTRA is correct as the risk of a heat stress illness increases rapidly once the core temperature exceeds 38⁰C.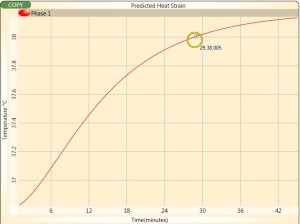 There are a number of actions that should be triggered at this point not the least to include re-assessment of current controls and the introduction of additional potential controls. Ultimately it may also be useful to consider some physiological monitoring where appropriate.
The above is an example of an assessment approach that can be used when anticipating potential heat stress issues or even if unsure and just to check.
Bringing this closer to home, how often do we see junior sporting events held in the hottest part of the day without appropriate preparation? Do the organisers take the heat of the day into account? Do we build in additional time to get off the sporting field to rest in a cooler or shaded environment for a better recovery? Do we ensure there are adequate fluids available and the opportunity to actually drink them?
It does seem obvious and straight forward and not difficult to manage but we continue to have issues in the workplace and on the sporting field and at all levels. If you think this only applies in junior sporting events, just cast your minds back to the Australian Open Tennis in Melbourne in 2014. Could that have been managed better?
BOTTOM LINE
Sporting events can present a serious risk of heat illnesses and they should be assessed in the same way we do for our workplaces. Both junior and elite athletes can be harmed if heat stress is not anticipated and managed appropriately.
No matter what the scenario we must put the health of the individual first and foremost.