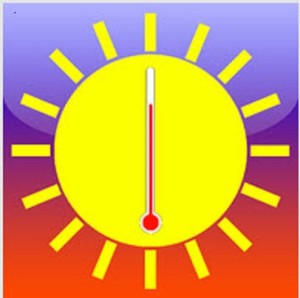 A heat stress phone app for the non-technical user is here. What started out as a one page training guide for employees in Australia 15 years ago has finally made it into the 21st century high tech world, thanks to a bright PhD student Vinod Gopaldasani, from the University of Wollongong (UOW).
In one of the discussion group forums related to this thermal environment blog on Linkedin the question was posed,
"With the increasing use of smartphones by the workforce, could we use an App to help our workforce manage their personal heat stress?"
With the offer of access to an excel spreadsheet containing all the necessary detail, the challenge was taken up by a small group, made up of: one old heat stress tragic, a PhD student and a recent graduate of the UOW Masters of Occupational Hygiene Practice. This was not a formal project and was all undertaken in the group's spare time. After numerous emails back and forth, testing, re-testing and modifying, it has successfully resulted in the Thermal Risk app. It is based on the latest re-incarnation of the basic thermal risk assessment (BTRA), outlined in the Australian Institute of Occupational Hygienists recently released heat stress guide.
(Check out http://www.thethermalenvironment.com/thermal-references/ ).
The first thing to be aware of is that it is not designed as high level heat stress risk assessment tool. The original version of the BTRA was designed by a hygienist frustrated by the procession of workers waving thermometers and asking "at what temperature do we stop work". Its intent is to demonstrate to workers that there is more to heat stress than just an air temperature. It asks a series of simple questions (14 to be precise) and incorporates a very simple index called the apparent temperature. The index has its limitations but it was chosen as a compromise between accuracy and simplicity, as it only requires an air temperature and a relative humidity measure.
It rates the answers and colour codes them using the traffic light colour system. In the final step it uses a simple equation to provide a rating as to the possible heat stress risk. Also included is a list of potential controls that can be utilised for each category in which the question is asked. If you require in-depth analysis of heat stress then this is not the tool for you, you need to go look at the thermal work limit (TWL) or ISO 7933 predicted heat strain (PHS) indices or even physiological monitoring if high levels of protective equipment are used.
BOTTOM LINE
This is a simple tool that can be used on site by the worker and gives a guide as to whether heat stress could be an issue for a task and which controls should be targeted. It's the starting point of the three level protocol introduced some time ago (http://www.thethermalenvironment.com/assessing-heat-stress-risk-the-three-level-protocol/ ). This might just meet your needs and provide some heat stress awareness training as well.
And best of all its FREE!
You can search the App stores or here are the links for the app on the 3 mobile platforms:
Android (Google play)  
https://play.google.com/store/apps/details?id=com.Gopaldasani.thermalrisk
​ Apple (iTunes store)
https://itunes.apple.com/us/app/thermal-risk/id867920824?ls=1&mt=8
Windows Phone store
http://www.windowsphone.com/en-us/store/app/thermal-risk/6f3ffccf-fcca-4588-9f3c-b7bdea119662
Let us know what you think
Below is a copy of the paper on the development of the app presented at the Australian Institute of Occupational Hygienists 2014 Conference in Melbourne Australia.